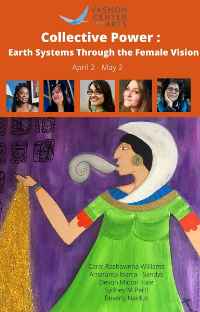 Collective Power : Earth Systems Through the Female Vision
…celebrating earth through shared creative consciousness
Collective Power is a group show of women figurative artists and their expression of natural forms and figures celebrating earth through shared creative consciousness. Each artist brings their own unique style of the art, influenced by their diverse backgrounds, to their interpretation of the world and their connection to organic systems, body, and nature. One common thread is their concerned about climate change, the environment and keeping traditionally feminine connection to nature's organic flow. Art by Carol Rashawnna Williams, Amaranta Ibarra-Sandys, Devon Midori Hale, Sydney M Pertl, and a participatory installation by Beverly Naidus.
Carol Rashawnna Williams is a Seattle based interdisciplinary artist who makes work that engages audiences in conversations about social, environmental and racial justice. Throughout her practice, Williams contends that the only way to shift race relations and understand climate change is through collective imaginings and re-imaginings of equitable relationships to the land, animals and resources. Her mixed media encaustics juxtapose abstract designs of trees with realistic renditions of endangered birds. To Williams, her figurative drawings focus on trees which she calls, "The elders". Williams says, "The trees have been here for centuries. They provide us with life – food, shelter, ecosystem. I think of all they have witnessed in the comings and goings of the world. Just because they don't have a verbal language we can understand doesn't mean they don't experience life."
Devon Midori Hale is a painter, muralist, teaching artist, interdisciplinary collaborator, and community-engaged public artist. A multi-panel curtain type installation called "Forest Bath" is an ode to larger womxn's bodies, tucked and connected within the monumental presence of an old growth forest. A forest bath (shinrin-yoku) is the therapeutic practice of taking in the forest atmosphere with our senses. This healing concept combines with monumental figures, inviting viewers to soak their eyes in the beauty and awe of the large, powerful bodies, both of womxn and trees.
The feminine and natural world are often portrayed together throughout art history: women in gardens, women with flowers, women as nymphs, fairies, and sirens. Sydney M Pertl's portraits, though created in the neoclassical style from which many of these types of works originate, draw from much different elements of nature, the foreign, dark, and mysterious. Eyes are often referred to as 'windows to the soul,' and it is from the eyes of others that was inspired. The connection between humankind and nature is important, primal, and fantastical, but to see through the eyes of another is the most magical thing of all.
Amaranta Ibarra-Sandys paintings are visual whimsical narratives depict divine women showing strength, wisdom and beauty. Each one is surrounded by shiny gold where in many cultures, gold is a symbol of power, divinity and immortality. Ibarra-Sandys' artwork embraces duality, nature cycles, whimsical creatives, goddesses and guardians. Her art is influences by the bright colors of her Mexican heritage blended with the beauty of nature in the Pacific Northwest.
The Story Hive Project by Beverly Naidus is a participatory installation. On display are a series of models for story hives which were created in 2010 for the project, "Eden Reframed: An Ecological and Community Art Project," installed at the Burton Skate Park on Vashon. The VCA installation continues the collection of stories for this new and relevant repurposing of the Story Hive Project. Visitors are invited to share their stories about how they have navigated the pandemic, what challenges they have faced and perhaps are continuing to face, and what positive things they imagine might emerge from this time. Paper is provided for visitors to write their stories which are then placed in the Story Hive for others to read. Visitors can feel free to read the stories that have been left behind.