Start To Finish, Youth Artists Make an Exhibition
Vashon Center for the Arts has strengthened a long-standing program of support for youth artists.
VASHON BEACHCOMBER
Thursday, June 3, 2021 5:33pm
By Juli Goetz Morser for Vashon Center for the Arts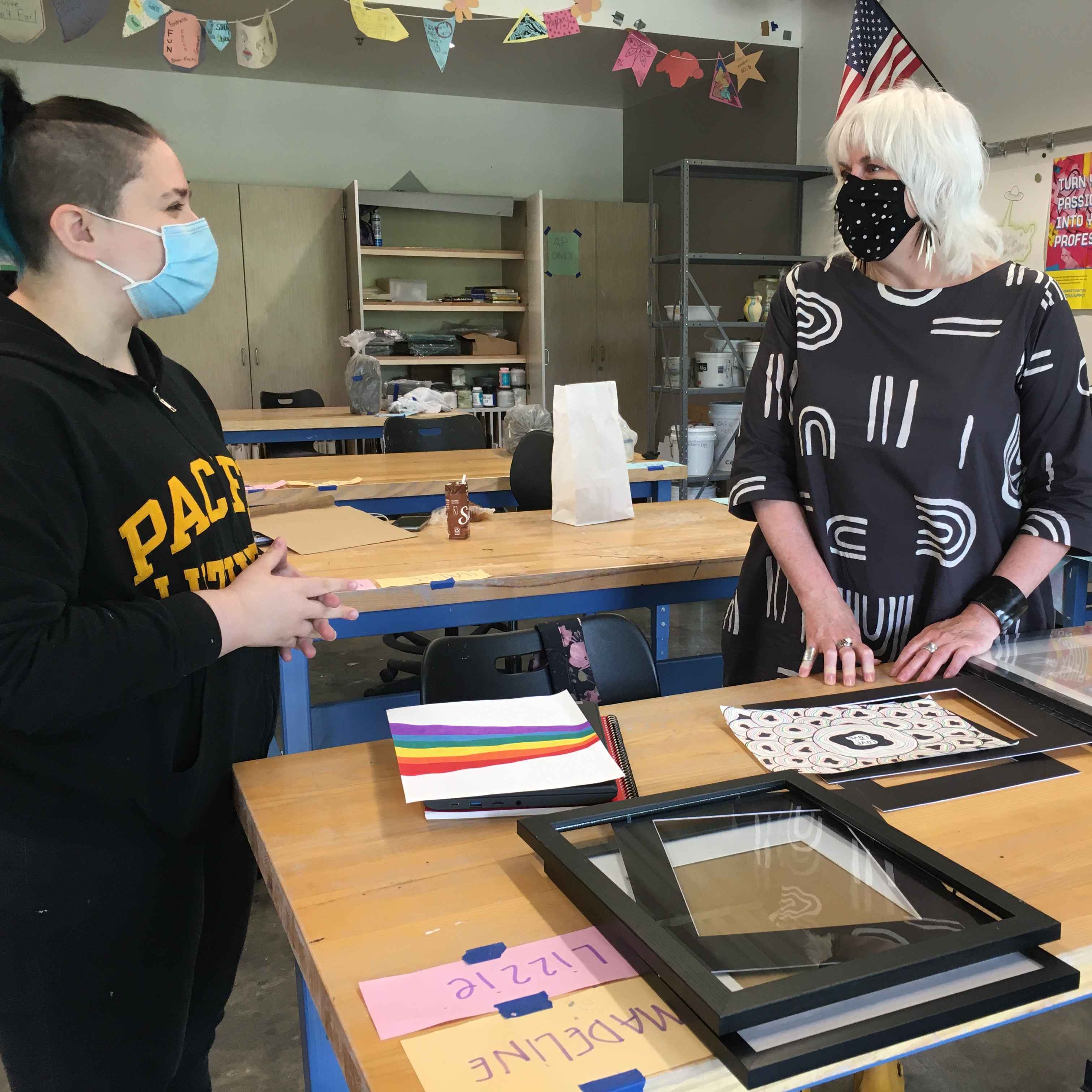 Since the early 1990s, VCA and Vashon High School have collaborated to present a biennial tradition of exhibiting student art at the end of the school year.
Typically, graduating seniors created the work and submitted it to the gallery to be hung for the opening of the popular show. But this year it's different. From start to finish, students have been involved with the whole process of making, framing, hanging and installing their artwork in the gallery for a show that will open at 12 p.m. Friday, June 4, in the atrium at VCA. A reception for the students and their friends and family will take place that day from 2 to 4 p.m.
The brainchild of Lynann Politte, gallery director at Vashon Center for the Arts and Kristen Adams, art teacher at Vashon High School (VHS), the new approach is a practicum to teach students about the world of art outside the studio. Through a Vashon Artists in the Schools (VAIS) residency, Politte first provided the 19 students — juniors, seniors and a few sophomores — in Adams' Advanced Placement (AP) art class with information about art careers in general, then focused on the requirements of an art gallery in particular.
"I gave a lecture about lots of ways to be an artist including the gallery, which is my world," Politte said. "We talked about contracts, commissions and went through each student's art. I asked them what is their best work and what do they want to show? They had the responsibility of choosing and curating. We wanted to connect the class to real life."
The students delivered their chosen art, but it didn't end there. With sponsorship provided by Vashon Thriftway, students had the materials to frame two-dimensional pieces and install three-dimensional art, and then laid out the show as a group to make the atrium wall "flow," according to Politte.
The artwork is part of the portfolio students assemble for college applications in Adams' AP class. Previously, portfolios were developed in a variety of classes such as ceramics, drawing and painting. Adams advocated for an AP program that would bring art students together in one class to foster an art community. Since initiating the program, there has been major growth in enrollment, she said. Adams also appreciated what the VAIS residency has offered to her students.
"I think Lynann's time with our class has been so helpful to students as they got another perspective on their work in addition to their peers and myself," she said. "To have that perspective come from a professional leader in the art community is invaluable."
The students also came to see VCA's April show, "Collective Power," which exhibited unframed, interactive installations and multimedia — which opened students' minds to more possibilities on how to display artwork. Politte worked with each student, talking through their options on how they could frame and hang their work, which includes digital art, photography, mixed media and fiber arts, as well as paintings and drawings.
"It's been eye-opening for them." VAIS Program Manager, Stephanie Johnson Blomgren said, citing Politte's flexible approach to the students' exhibition. "Lynann thinks outside the box, and that includes her commitment to the community."
For Politte, it's all about helping students start an art career.
"We have students who are so talented, I want to send them off with experience and information," she said.
Adams agreed, adding that she's been "completely blown away" not only by her students' enthusiasm for this opportunity but also for their willingness to jump right in and get going.
"Despite the limitations and challenges they've been navigating with school closure and the COVID pandemic, these students have wholeheartedly embraced this class and the opportunities that came with it, resulting in some incredible art and experiences for us all," Adams said.
The show opens June 4 and runs through June 27. Gallery hours are 12 p.m. to 4 p.m. Thursday through Sunday, with extended hours on June 4 from 12 p.m. to 4 p.m. See more information at vashoncenterforthearts.org/gallery.