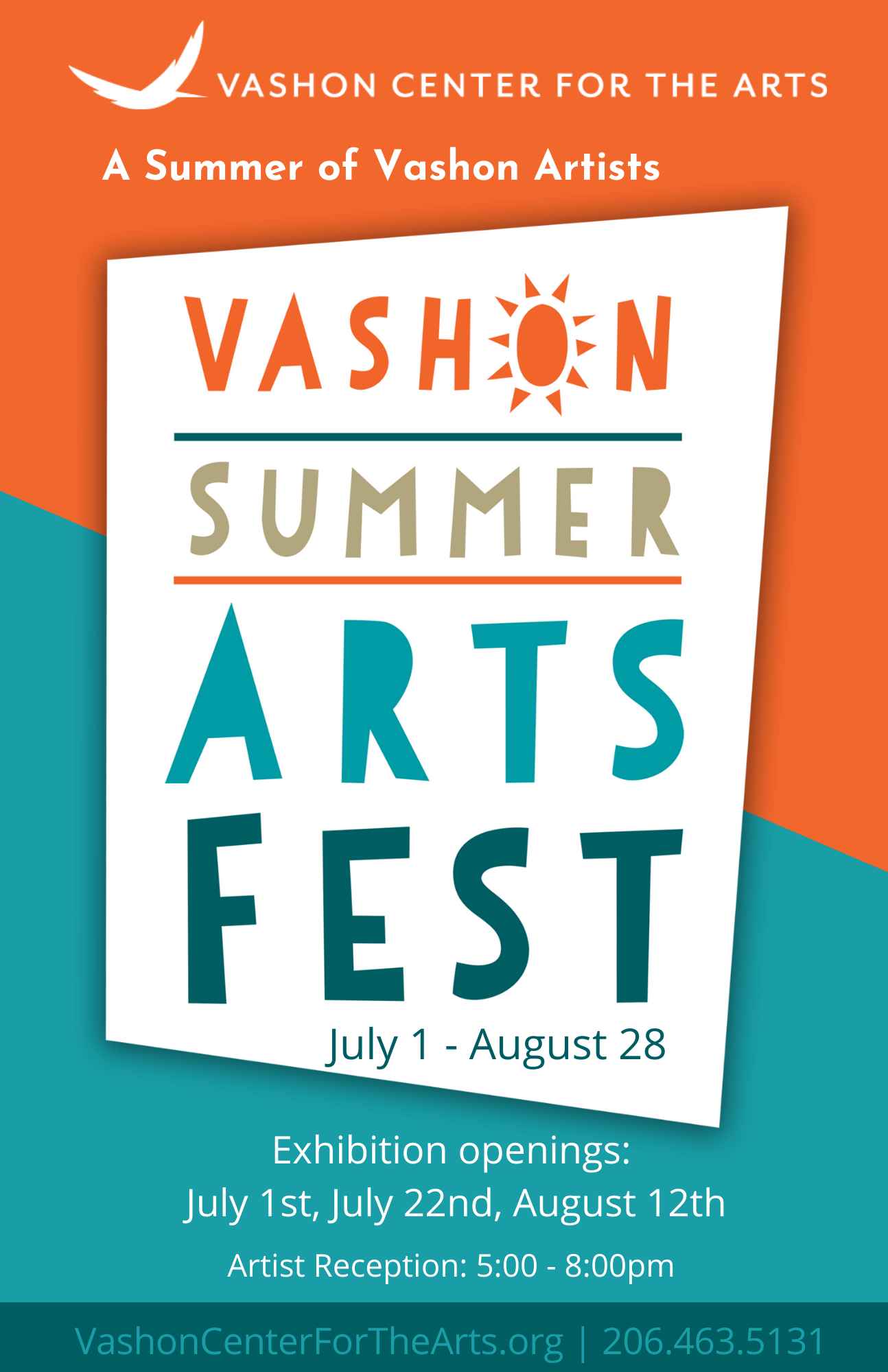 Summer 2022 marks the 5th summer for VCA's Vashon Summer Arts Fest, an 8-week bonanza of Vashon visual art. The foundation of the festival is offering artists "mini galleries" in the form of linear wall space or floor space for them to present a collection of their work. The festival is dedicated solely to Vashon artists and welcomes both new artists and experienced artists.
This year 34 solo shows and one group show of 13 potters make up the exhibitions which rotate every three weeks. Each rotation opens with a Friday Artist Reception, July 1, July 22 and August 12 from 5-8pm.
Opening Friday, July 1: Tina Anderson, Sara Dobbs, Gregory Foster, Ariana Heinzman, Bennett Hu, Jay Kruly, Scott Sanders, Laurie Thorpe, Kurt Timmermeister, Pamela Wickard, Lenard Yen, and Wade Yip. Lisa Witherspoon collection of jewelry in the Gallery Shop is also opening and showing for the month of July.
Opening Friday, July 22: Bill Dilley, Denise Dion, Brette Flora, Jeff Good, Gretchen Hancock, Kassana Holden, Suzanna Leigh, Maija McKnight, Annette Messitt, Kate Munson, John Woodard and a Vashon Group Potter show with with Heidi Anderson, Christine Beck, Sonja Bergström, Mary Hosick, Gale Lurie, Adrian Moger, Jane Neubauer, Dave Olsen, Irene Otis, Mary Rose O'Reilley, Mary L Robinson, Pam Schubert, and Barbara Wells.
Opening Friday, August 12: Creighton Chamberlain, Susan Gross, Suzanne Hubbard, Rachel LordKenaga, Terra Clarke Olsen, Ilse Reimnitz, Kristen Reitz-Green, Deborah Taylor, Robert Thomas, and Jeanne Marie Thomas. Morgan Brig is opening her collection in the Gallery Shop on First Friday, August 6 and showing for the month of August.
Regular gallery hours Wed-Sun: 12-5pm except for installation weeks which are the week before openings. All work is for sale and there is something for everyone.