Art Exhibition: "Jim Woodring's World"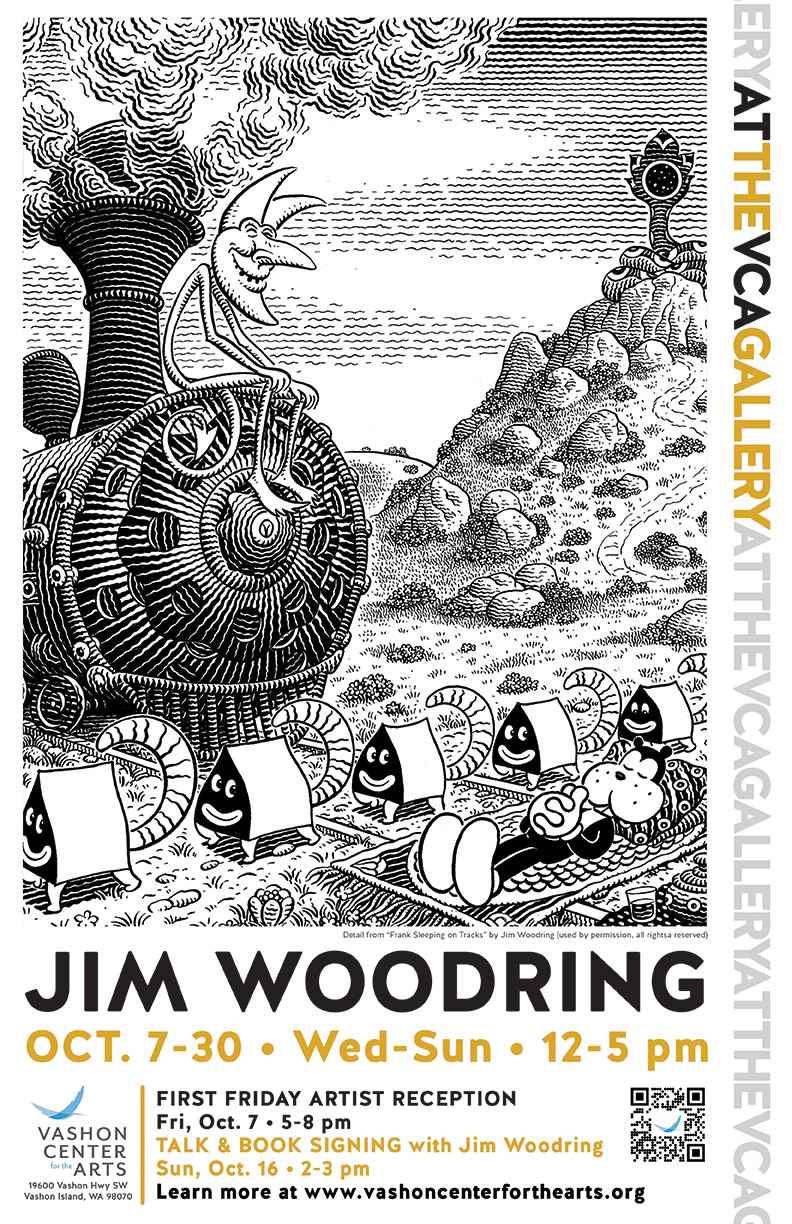 Friday, October 7. Show opens, Meet the Artist reception 5-8pm
Sunday, October 30. Exhibition closes. Gallery hours, Wed - Sunday 12-5pm
Free to the public.
This exhibition is a rare opportunity to see a cross-medium collection of Jim Woodring's work, including original Frank ink pen drawings, Jim's fantasy oil paintings, his large 6' ink pen drawings, prints, books, and gift figures made from his FRANK characters.
Jim Woodring is an American cartoonist, fine artist, writer and toy designer. He is best known for the dream-based comics he published in his magazine Jim, and as the creator of the anthropomorphic cartoon character Frank, who has appeared in a number of short comics and graphic novels.
Since he was a child, Woodring has experienced hallucinatory "apparitions", which have inspired much of his surreal work. He keeps an "autojournal" of his dreams, some of which have formed the basis of some of his comics. His most famous creation is fictional—the pantomime comics set in the universe he calls the Unifactor, predominately featuring Frank. He also does a large amount of surrealist painting, and has been the writer on a number of comics from licensed franchises.
Woodring has won or been nominated for a number of awards. He placed twice on The Comics Journal's list of the 100 best comics of the century, with the Frank stories ranked #55, and The Book of Jim ranked #71.
VIEW a 3-D TOUR OF WOODRING's EXHIBITION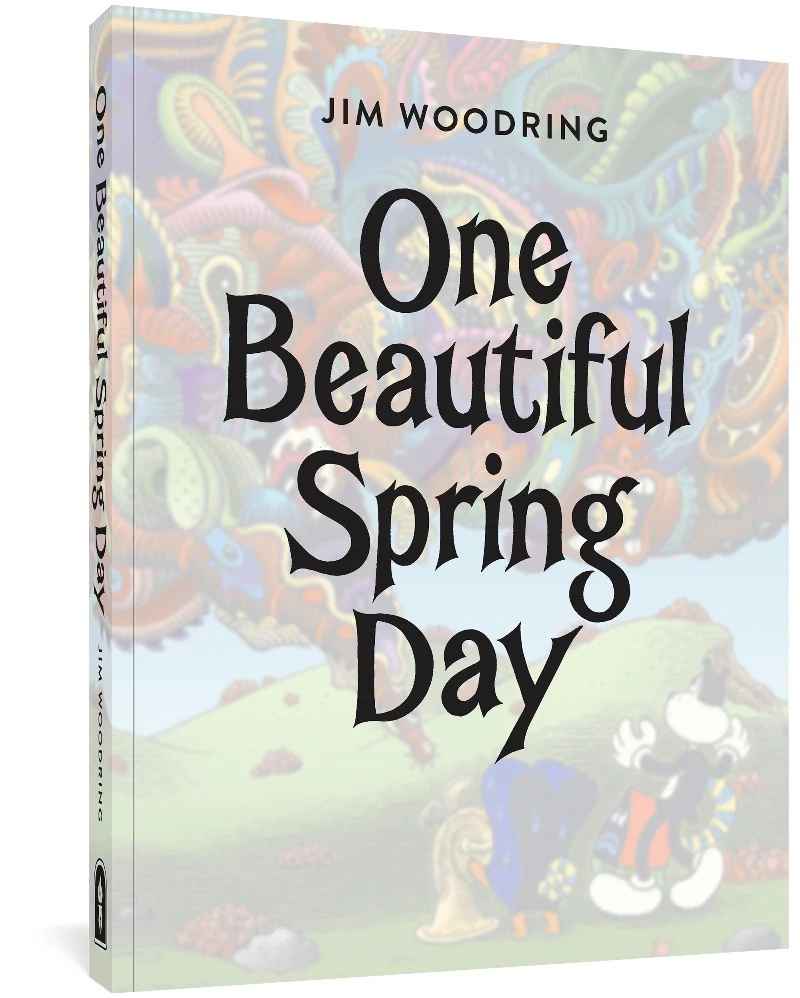 Artist Talk with Jim Woodring: "One Beautiful Spring Day"
Saturday, October 16: 2:00pm, followed by a book signing in the lobby.
General admission $20, VCA members & Senior (65+) $18, Youth (18-) free.
Read the New Yorker article about Jim's new book HERE
Join Jim Woodring for his otherworldly presentation that starts with personal anecdotes, continues with a brief survey of his work, and lands on the content of his newly released book, "One Beautiful Spring Day" to showcase its inner workings and hidden aspects. His new book is described by his publisher, Fantagraphics, as "A mesmerizing, mind-bending, wordless 400-page comics odyssey by a contemporary master of the form." Ken Johnson of the New Times writes, "Mr. Woodring [has] extraordinary gifts as a draftsman, storyteller and creator of hilarious characters and hallucinatory situations..." Jim Woodring has been chronicling the adventures of his cartoon Everyman, Frank, for almost 30 years. These stories are a singular rarity in the comics form — both bone-chillingly physical in their depictions of Frank's travails and profoundly metaphysical at the same time. The talk will be followed by a book-signing with Woodring in the lobby.
Getting to Vashon
Vashon Island is just a short ferry ride from three ferry terminals: Fauntlery (West Seattle) & Southworth (Port Orchard) - both on the north end of the island - and Pt Defiance (Tacoma) on the south end of the island. VCA is located about mid-point from either end of the ferries (5 to 8 miles). Ferry rides are a quick 10-20 minutes depending on which terminal you are coming from.
Ferry service to Vashon is provided seven days a week by the Washington State Ferries. Schedules can be found here: https://www.wsdot.com/ferries/
Please note due to COVID staff shortages, the ferries are on a 2-boat schedule and also can run 10-20 minutes late. It is best to consider possible delays when determining which ferry you will be taking.
There are two bus lines that run up and down Vashon Highway, the main highway on Vashon. VCA is located, on the corner of Vashon Highway and Cemetary Road. Schedule for buses 118 & 119 is here