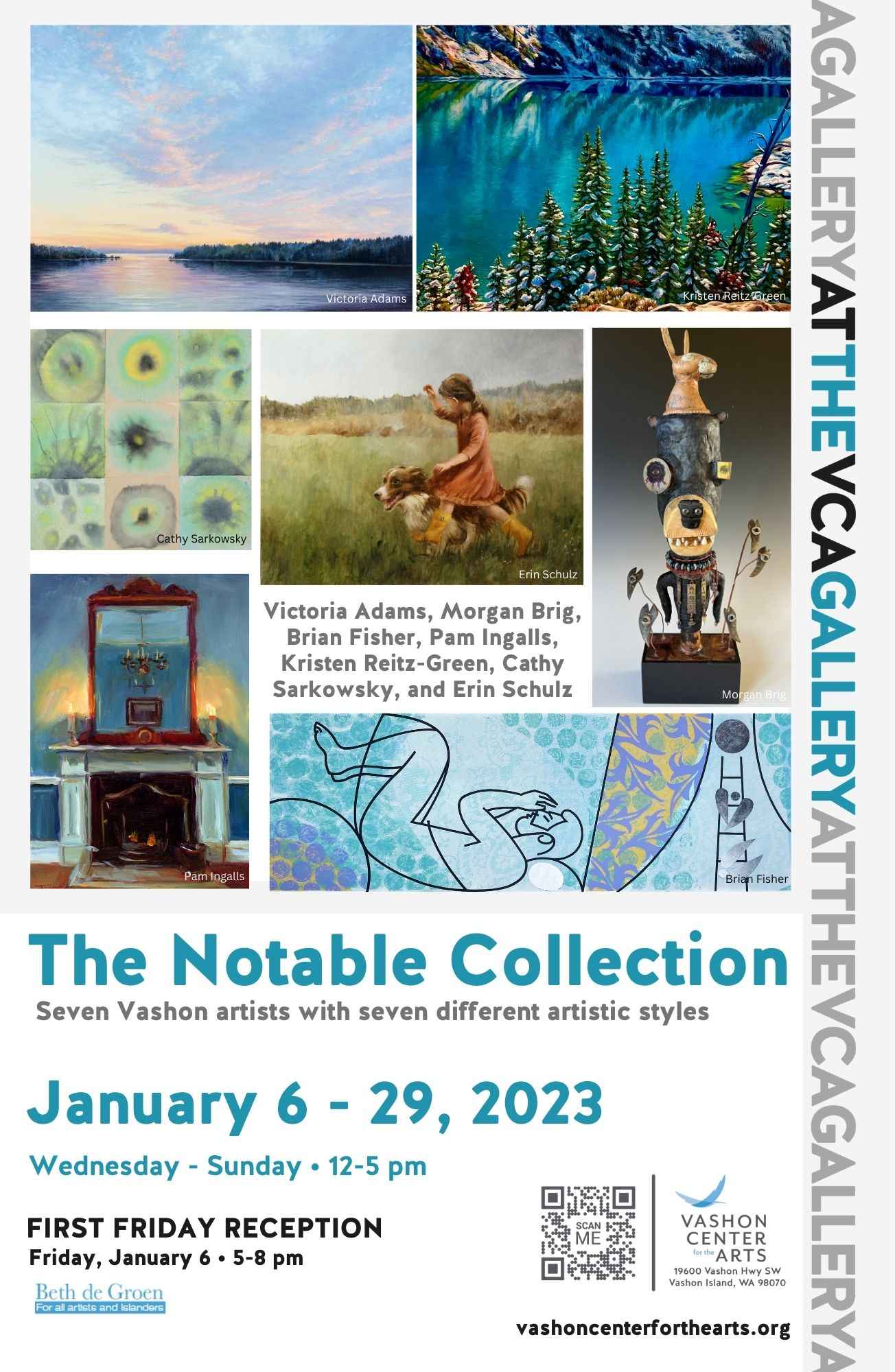 VCA is pleased to present its 3rd Annual show of The Notable Collection.
VCA's Notable Collection comprises of esteemed Vashon artists who have distinguished themselves in the art world with their own distinct style and vision. This collection will be available for viewing in gallery and online. The high quality of the work of this group of full-time artists is well-recognized, having appeared not only at VCA but also in galleries, museums and in private collections on a local, national and international level.
Gallery opening with artist reception: Friday, January 6, and runs through January 29, 2023
Notable Artists
VICTORIA ADAMS
Victoria Adams has exhibited her contemporary American luminist landscape paintings extensively throughout her career with over 35 solo exhibitions in Seattle, Portland, New York, Boston, Chicago, Montreal, and Sun Valley ID. Her work has been featured several times in American Art Collector, and has been pictured in such national magazines as Luxe, Traditional Home, and Veranda. Her paintings are included in numerous private and public collections in the US and Canada, including the Tacoma Art Museum, the Boise Art Museum, Grand Valley State University, the Paul Allen Foundation for the Arts, and the Jordan Schnitzer Family Foundation. A solo retrospective of her work at the Tacoma Art Museum, Where Sky Meets Earth: The Luminous Landscapes of Victoria Adams, was accompanied by a publication of the same title. She lives and works on Vashon Island WA surrounded by the wide horizons and eventful skies of the Pacific Northwest.
MORGAN BRIG
"It took me years to come out of hiding. Slowly over time I realized the importance of telling my own story. It was, and is, my way to connect with the world. I realized over and over, that my stories of emotion, doubt and joy are pretty much everyone's stories. Indeed, we have differences, but it's inescapable how similar we all are. So I risk telling my story with my mixed media sculpture because I know I will connect with others. Even if I never see it in your eyes in person, I know you're out there.​ And that's the gift to me, plain and simple. I'm not alone, and neither are you."
BRIAN FISHER
Brian has lived and made art on Vashon Island, Washington, since 1989. He shows locally, regionally and has for many years exhibited with Roby King Gallery of Bainbridge Island Washington. Brian has a long association with Vashon's local print cooperative, Quartermaster Press, having first joined in 1997. He is the past president of VIVA, Vashon Island Visual Artists, and a founding member of the coop, Swiftwater Gallery, on Vashon Island. He says, "All the art I make, print, oil on canvas, even my three-dimensional work, is informed or inspired by the printmaking process."
PAM INGALLS
Pam Ingalls loves to paint light falling on ordinary people, objects and scenes. Raised in Spokane, Washington, she was first inspired by her parents, artists Richard and Marjorie Ingalls. She studied art at the Accademia Di Belle Arti in Florence, Italy and earned an art degree from the art department that her father began at Gonzaga University in Spokane.
After exploring a few side paths—among them, pursuing social justice aims and building a house—Pam returned to her true passion under the mentorship of Russian Impressionist, Ron Lukas - a protoge of Sergei Bongart. She also has studied with Frederick Frank, Richard Schmid and Burt Silverman. Strong color and sound drawing are primary in her paintings. Her choice of simple subject matter is surprising, sometimes humorous, and always full of emotion. Portraits, still life and interior scenes populate her studio. A table with chairs, a diner counter top, rubber boots standing by a kitchen door, even a clawfoot tub - all evoke a sense of humanity and presence, as if someone is either about to enter the frame or has just left it.
KRISTEN REITZ-GREEN
Kristen Reitz-Green lives and works on Vashon Island in the Pacific Northwest. She spent the majority of her life working in the field of classical music performance before making a shift into the visual arts. A graduate from the Juilliard School in New York and the Hartt School of Music in Hartford, Conneticut, Kristen performed throughout the US and Europe.

In 2006, she cast aside her career and french horn in search of greener pastures. Eventually this lead to taking up oil paint in a series of classes with well known painter Pam Ingalls in 2008. Since then, Kristen has done little else than pursue studying art and oil painting with great passion. This lead to several local juried shows in 2009 and then in 2010, being selected in 6 juried shows including one internationally. Her subject matter has varied a great deal and in the last year she has chosen to focus on large format still life paintings of enticing food and candy. These works are meant to take the viewer back to their favorite food memories from childhood, whether it is a stack of cookies with milk or a bag full of gummy bears.
CATHY SARKOWSKY
Cathy Sarkowsky is a painter and printmaker whose passion is playing with color. She has spent most of her life living in the magnificent Pacific Northwest. Perhaps life in the gray zone literally colored her artistic inclinations?
Sarkowsky has one BA and two MA degrees, all of which inform her worldview and work – and none of which was literally an art degree. She has been painting and making prints for nearly 30 years after realizing that the only component of an artist's life she was missing was actually creating art. She has never turned back. Sarkowsky has been showing and selling her work in galleries and shows for nearly three decades, taking classes and workshops, attending residencies, and being part of a proliferation of artists, collectors and appreciators. Her work is in many collections, including Tacoma Art Museum and Swedish Hospital in Seattle.
ERIN SCHULZ
Erin started studying art at an early age in Yakima, WA and continued studying with a focus on classical realism in oil (portrait, figure, and still life.) Ironically, she was first exposed to classical realism and atelier style teaching at the Sichuan Fine Arts Institute in Chongqing China where she had private instruction in portraiture. She continued her studies at Gage Academy in Seattle, Grand Central Academy in New York and Florence Academy of Art in Italy.
​