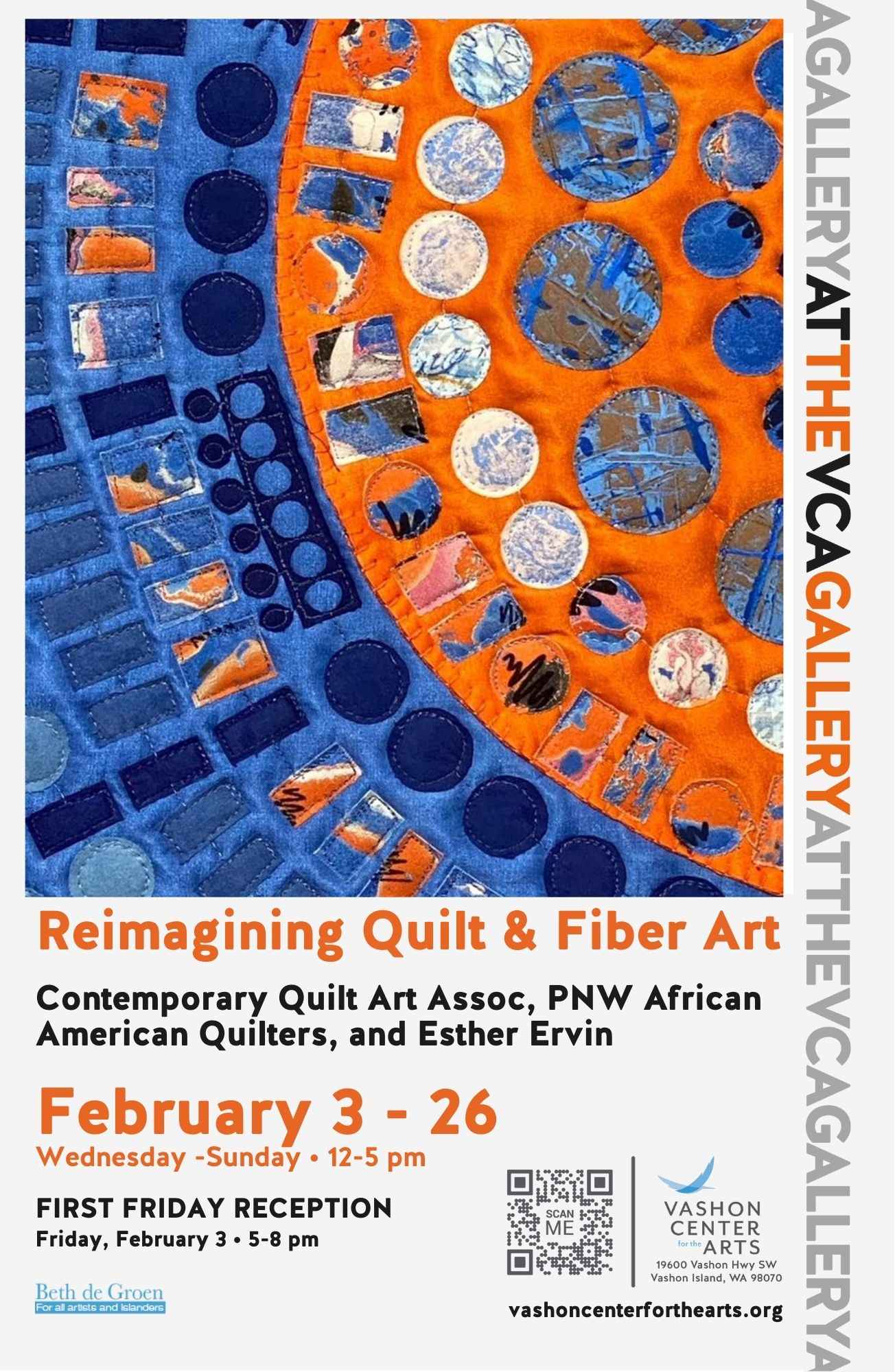 Reimagining Quilt & Fiber Art
Artist Reception: February 3, 2023 (First Friday gallery tour)
Reimagining Quilt & Fiber Art is a show which beautifully exhibits fiber artists who are pushing the boundary of what we typically think as 'quilting'. It also demonstrates new techniques and materials used in fiber arts today. The exhibition includes a collection of 21 quilters from the Contemporary Quilt Art Association, a group quilt created by the Pacific Northwest African American Quilters and a collection of politically inspired fiber art from Seattle artist Esther Ervin.
Contemporary Quilt Art Association put a call out to their members for art that "pushes the envelope of the methods and materials of art quilting. Quilting has always embodied the inventive repurposing of discarded fabrics. With the addition of non-traditional materials, including upcycled, recycled, painted, printed, digitally created, torn and worn, quilt artists continue to reinvent the form, creating a variety of two-dimensional and three-dimensional shapes that are defined as quilts only because they are layered and stitched. The hand of the maker is evident in the stitching, sculpting, embellishment, or otherwise crafting of each piece." These pieces truly show their theme "Quilts Unlimited"
Esther Ervin's current collection of work, in fiber, is an attempt to critically examine some of the inequality and exploitation that has been made essential to the foundation of this republic. For the most part, the works are done with needle felting. The felt is cut out, and roving is worked in if shading is needed. Sometimes, other materials are integrated into the work.
"Nkonsonkonson" (In Unity, There is Strength) is a large group quilt created by the Pacific Northwest African American Quilters that embodies the friendship and community this group share, even as their quilting styles and techniques are as varied as the members of their group.