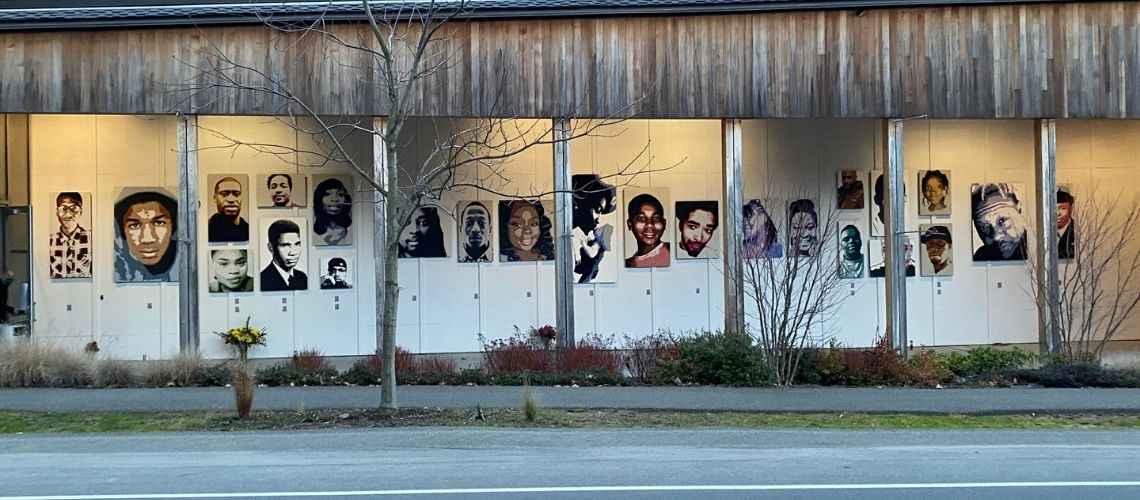 Vashon Remembers Gallery of Portraits
The full collection of The Vashon Remembrance Project portraits is installed as an outdoor gallery on the west side of the Kay White Hall building. These portraits have been hanging in the windows of Vashon businesses since the beginning of the George Floyd / BLM nationwide protests. The portraits are of black citizens killed by police violence. Vashon Remembers portrait project also included portraits of esteemed civil rights leaders which are installed at VCA and Minglement (Rosa Parks).
The series of 24 portraits are QR codes which can be scanned by your phone to a website page that gives viewers more information about the rich lives of the people in the portraits.
The purpose of bringing all the portraits together in the mural is explained by artist West McLean (a pseudonym). "Seeing all the faces together will help to underscore the scope of the epidemic of violence. Seeing one or two while walking through town, I've been told, is affecting to a degree. I'm hoping that the collection of faces will underscore that these are not isolated incidents or statistical outliers. The sheer number of killings by police is horrifying, and I could paint a victim of police violence every day of the year and never be wanting for subjects.
All portraits by West McLean. Installation by West McLean and Jessica DeWire. Special thanks to the team who prepping and painting the wall for the installation: West McLean, Jessica DeWire, Stuart Gordon Tribble, Laura Powers and Phineas Powers.
The portraits include 24 individuals:
Aiyana Jones
Andre Hill
Atatiana Jefferson
Breonna Taylor
Charleena Lyles
Daniel Prude
Darrien Hunt
Delrawn Small
Elijah McClain
George Floyd
India Kager
Jordan Edwards
Kalief Browder
Lamontez Jones
Medgar Evers
Michael Brown
Rayshard Brooks
Rekia Boyd
Rumain Brisbon
Samuel Dubose
Sandra Bland
Tamir Rice
Tony McDade
Trayvon Martin
KING5 evening came to Vashon for a segment about the exhibition. See segment HERE
The Vashon Remebrance Project seeks to: (1) memorialize through interactive art and reflection historically marginalized peoples, heroes of social justice and civil rights, and individuals who have lost their lives to tyranny, and (2) develop and share educational materials on historically accurate and under-learned events to combat forgetting.
McLean says his inspiration came after seeing a video, "I was strongly affected by a video in early 2020 called "before you call the police" in which a Black man describes small details about his life - things he likes and dislikes, his favorite foods and music. It put such a human face on a stranger, and a goal of this project was to bring that same level of humanity to the calls of 'say their names'. The names themselves might be on a list, or repeated at a rally, but it was important to me to tell something of the individual lives that were lost, to more tangibly show the tragedy of this epidemic of violence. When murders are statistics, the common person can dissociate from the truth, which is that Black people in America are being wantonly murdered by law enforcement and systemic racism."
The mural is completed by MLK day, January 18th and be up through February, Black History Month.
More information about this project at www.VashonRemembers.org