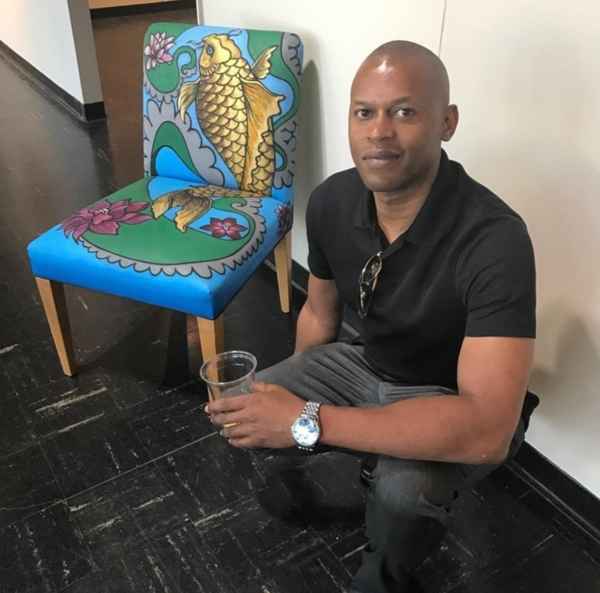 Swimming Against the Current open Friday, February 4th at noon
Meet the Artist reception is Friday, February 4th: 5pm - 8pm
Show runs through Sunday, February 27th. Gallery hours are: Wednesday - Sunday: 12noon - 5pm
This exhibition is a visual representation of a running conversation Bryon has with himself and others about the origin of man and his place in the universe. As a child, Bryon was a science lover whose home and influences included science, an astrology ephemeris and a bible. He grew up loving Star Trek and, in particular, Spock because of the logical side of the character. This combination of influences set the stage for his home being filled with fascinating conversations about the universe and humanity.
Artist Statement
In more ways than one, my art is like one of those electrons in quantum physics that keep popping in and out of time and space. Born addicted to shapes and lines I tend to Value variety most. I am still in awe of the movement of the female form and her profound Cosmic responsibility, as a motif, she is the undercurrent of much of my work. I would like for my artwork to be portals to other worlds other ideas full of positive intention where entangled energies together in a moment of observation.
- Bryon Stewart
Biography
Bryon Stewart is a completely self-taught artist that has been painting and drawing and creating for over 30 years. Don't let his years of experience mislead you he still sees himself as an emerging artist because he has flown under the radar for the most part. The bulk of his formal training took place in high school and attributes his art education to his High School art teacher Martha Woodards. He feels fortunate to have attended Vashon Island High school on the beautifully isolated island of Vashon in Puget Sound. He lived on Vashon from 1986 to 1991, graduating from Vashon High School in 1991. Creativity is valued in this close-knit artistic community. Exposure to profoundly independent and creative instructors and the natural beauty of the island was a great incubator for his artistic vision.