ARTS
Eager art student, still inspired by a local teacher, comes home
Bryon Stewart is coming home to Vashon with his February exhibition at VCA, "Swimming Against the Current."
By Lynann Politte For Vashon Center for the Arts • February 2, 2022 1:30 am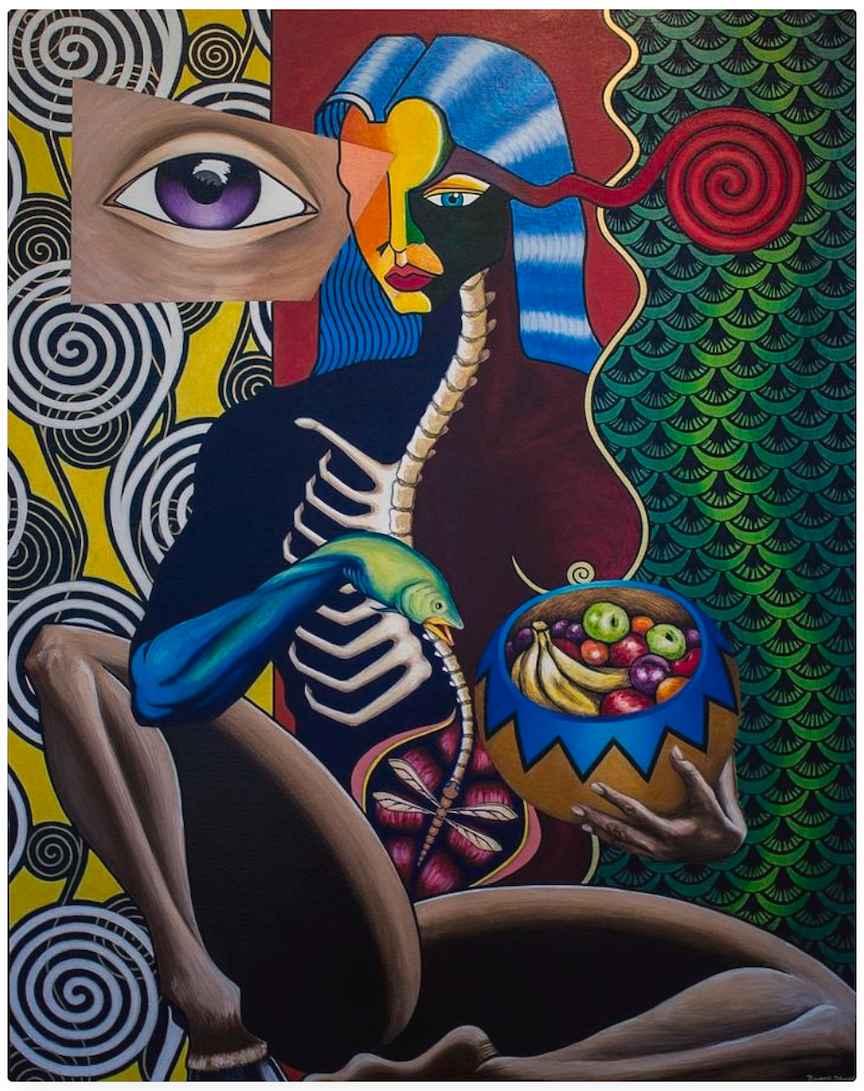 (Bryon Stewart Artwork) "Garden," by Bryon Stewart, is included in an exhibition of his work at Vashon Center for the Arts, running through February.
It's an old adage that one teacher, who truly believes in a student, can make a huge difference in a student's life.
For artist Bryon Stewart, that teacher was Martha Woodard, his Vashon High School (VHS) art instructor in the late 1980s. And now, Bryon is coming home to Vashon with his February exhibition at VCA, "Swimming Against the Current."
A predominantly self-taught Black artist, Stewart said the most "formal" art training he had was in his freshman and sophomore year at VHS, with Woodard. These were the early years of Woodard's teaching career, and she taught both art and history.
In an interview, Woodard said that she took a deliberate approach to teaching art – emphasizing composition, color theory and art history. She also moderated peer critique sessions for the students to review each other's work and used live models in the classroom.
What the school didn't have at the time was money for many art supplies, including paper, so Woodard had the students paint murals on the walls. Back at that time, she said, Vashon was very different academically — 80% of the students did not go on to college, whereas now, 80% of Vashon students continue on with a college education. She felt it important for her art students to get focused and have a serious art education because many would not be continuing their studies in college.
But Woodard was more than an art teacher for Stewart.
Mrs. Woodard (he doesn't call her by her first name) believed in him, he said.
"She was liberating," Stewart said. "She believed in me and motivated me to try different things." And she continues to be a motivating force in her former student's life.
Woodard said that after she retired, she felt comfortable connecting with former students on social media, and that is where she and Bryon reconnected about two years ago. Today when he posts images of his new work on Facebook, she gives her critique and asks him questions about why he does what he does.
"She still asks me those challenging questions — She had such a profound impact on me seeing myself as an artist. Maybe in a way, I'm still trying to make her happy," he said, with a chuckle.
Stewart went on to junior college, but realized that wasn't the place for him to learn about art, and also decided it was time to work and make money. While he was professionally successful, he knew he wanted to be a career artist. Five years ago, he left his full-time work to pursue that dream he had had since childhood.
This past year, in the midst of COVID, he has sold more art than ever and has been getting rave reviews.
Stewart moved from Kansas City to Vashon with his family, when he was in the seventh grade, and graduated from VHS in 1991.
"For me, Vashon was a hotbed of art for me as a teen," he said. "It was so different for me than Kansas City — to come to such a laid-back place and away from a city. But I credit the isolation of a rural community with finding ways to entertain myself and that was drawing and painting. Plus, there were so many artists, Ron Hook, Michael Spakowsky, Sandy Noel and Mark Benion, who welcomed me into their studios. I asked them a lot of questions."
Woodard remembers those years at VHS, now recalling a handful of students who had outstanding artistic talent. Stewart was one of them.
"What stood out most about him was his dedication, and he was also naturally gifted with composition," she said. "He was original, not like everyone else. It was clear he should go on to be an artist. It makes me feel great that in his adult years he is delving into art in a big way."
"Swimming Against the Current" is a visual representation of a running conversation Stewart has about the original man and his place in the universe. The show opens at 12 p.m. Friday, Feb. 4, at VCA. That evening, Stewart will attend an opening reception from 5 to 8 p.m.
Also showing at VCA is Marita Dingus from Seattle. Find out more including gallery COVID protocols at vashoncenterforthearts.org.