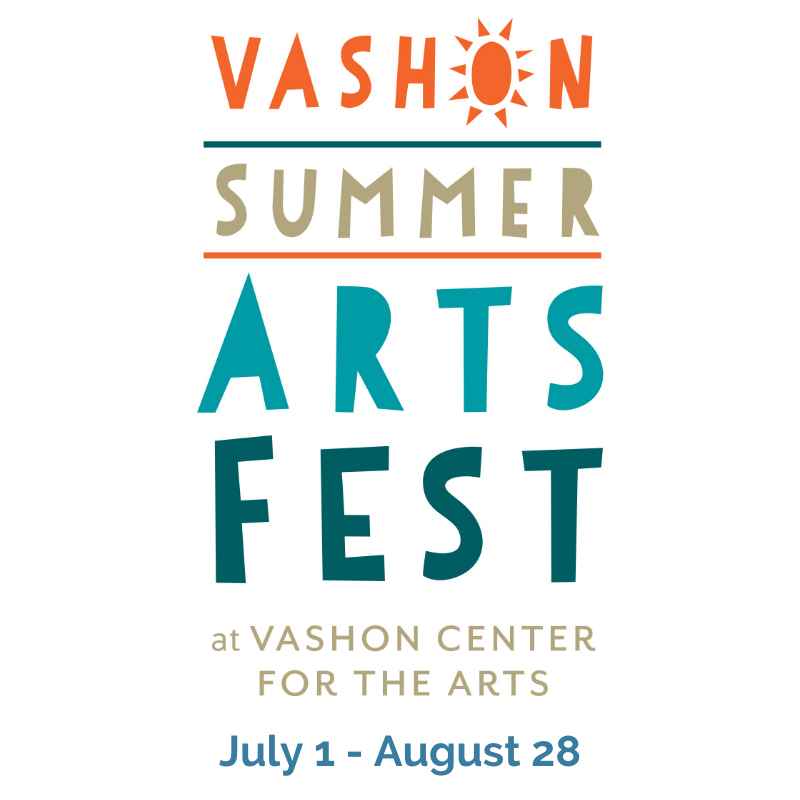 CALL FOR ARTISTS – VASHON SUMMER ARTS FEST
Welcome to the 5th annual Vashon Summer Arts Fest at Vashon Center for the Arts. Thank you for your interest in submitting to exhibit at VCA. Each year Summer Arts Fest continues to amaze with art from over 125 Vashon artists in the course of two summer months, July & August.
At the Summer Arts Fest, Vashon art patrons and Island visitors see the breadth and depth of the Vashon art community. The collection covers a broad spectrum of medium. We welcome both novice and experienced artists to show their work. It is a time filled with creativity, connection, and community. At the heart of Arts Fest is the active contributions of the artists in many aspects of their exhibition. This is a community event for and with the Vashon artist community.
THE BASICS
Vashon Summer Arts Fest 2021 opens July 1st and closes August 28th.

Arts Fest is a festival dedicated to Vashon artists only.

The application includes two pieces:

And online application form HERE
Images representing your work (emailed to LynannP@vashoncenterforthearts.org)

No larger than 2MB

Please name the files in this format: ArtistName_ArtTItle. For example: JillArtist_TheThinker.jpg

Images can be : completed work, work in process or work that represents what you are going to show.

Deadline May 24, 2022
ELIGIBILITY - THE ARTIST
You qualify if you are ONE of the following:
A Vashon resident

You own property on Vashon

You grew up on Vashon and/or have family on Vashon AND are under the age of 22.
ELIGIBILITY - THE ART
Original art.

Art that is for sale.

Art that has not been shown on Vashon at VCA or any other venue.
SCHEDULE OF ARTS FEST
There are three (3) rotations of art exhibition:
#1: Opens Friday July 1, closes Sunday July 17
#2: Opens Friday July 22, closes Sunday August 7
#3: Opens Friday August 12, closes Sunday Aug 28
SPACE
You can apply for the following amounts of linear or floor space for your exhibition. The jury will determine and confirm your actual space. In choosing the amount of space, consider the size of your work and ample space between your art pieces. Note: for linear wall measurements, our curation requires 18" - 32" from the end of a wall to the first/last piece of art.
Choices for wall space:
7 linear feet

12 linear feet

18 linear feet

28 - 30 linear feet
Choices for floor space
80 square feet

240 square feet
INSTALLATION
Shows load in and are installed Monday & Tuesday.

Shows open the Friday of your first week.

Artists are responsible for delivering art to VCA, wired and ready to hang.

Artists are responsible (or designate someone else) for hanging their own show, with VCA guidance.

Artists are responsible for picking up art the Monday following their closing weekend.
COMMISSION
All art in our Summer Arts Fest is for sale, therefore all art your submit must be for sale.

Commission split is 60/40 (artist/VCA).
Be sure to fill out the application completely so that we have all the information to make our decisions.
We thank you for your interest and look forward to seeing what artistry you are contributing.
If you have any questions, email lynannp@vashoncenterforthearts.org