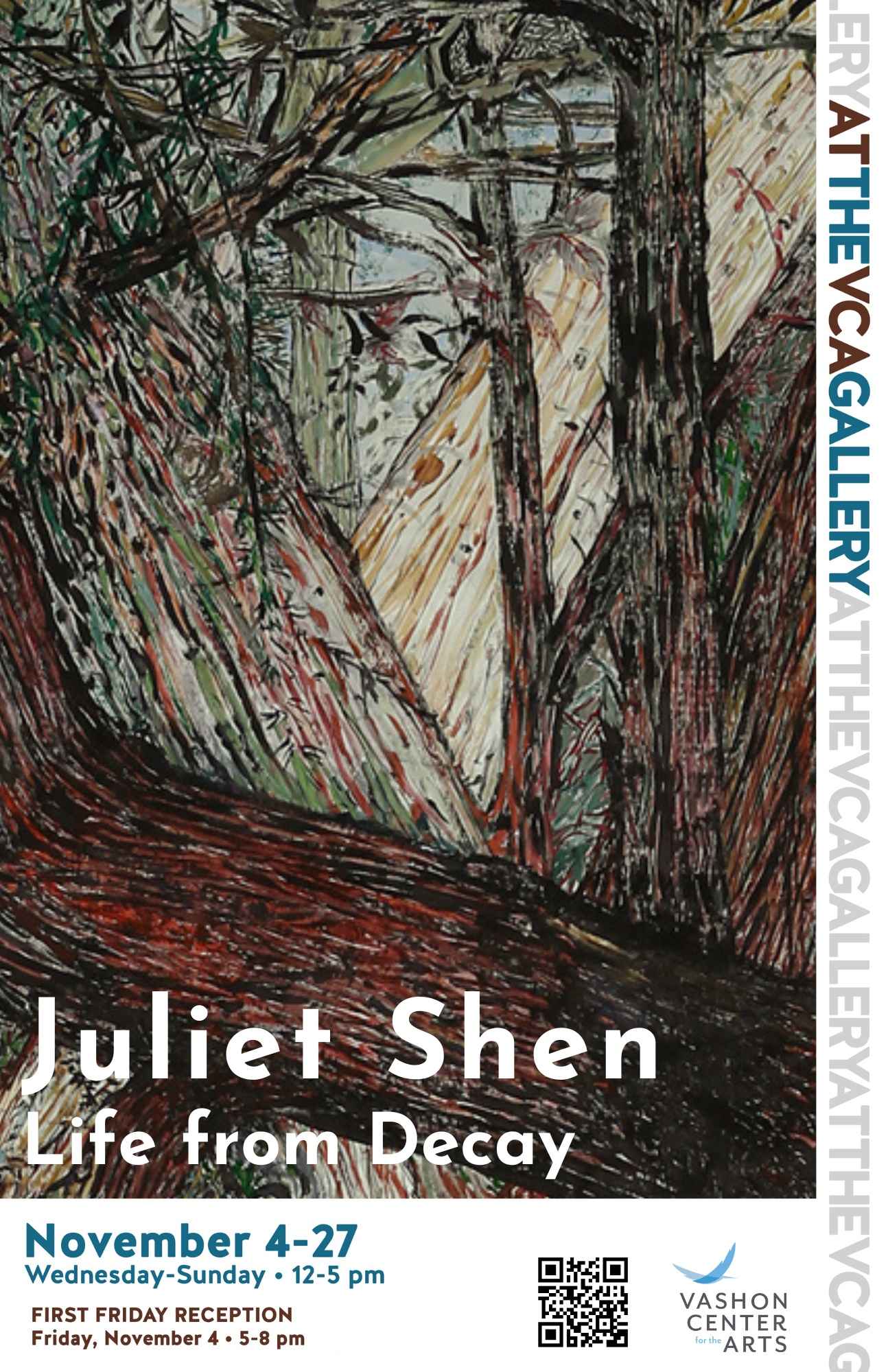 Runs, November 4 - 27
Meet Juliet Shen, First Friday reception, November 4: 5-8pm.
Gallery hrs: Wed - Sunday: 12-5pm
"Life from Decay", by Juliet Shen, is a series of large, 38" x 120", intricate ink drawings on Japanese gampi paper (Kitakata), integrating the various stages of as tree's life. She says she is including the 4th dimension - time. She produced most of the work during her residency at Vashon Artist Residency (Vashon, WA) in February 2021. They were greatly inspired by walk in the forests and on the beaches of Vashon.
"I am inspired by my observations of the natural world and the moral lessons for human society I find there. I paint landscapes about the emergence of life from decay in the forest; the interdependence of members of a biome; the sheer will to live on despite destructive injury; and other life-affirming transformations. Accepting one's life as part of this natural cycle is liberating. I'm interested in drawing the viewer into a journey that produces the same uplifting feeling afforded by looking at a real landscape in person.

I have not received traditional training in Chinese brush painting, which involves a lot of patient repetition and imitation. Instead, I am learning the potential of the brush by experimenting on my own. I admire the minimalism of the Chinese brush as a tool, and its ability to nonetheless create such lush textures on paper. While I learned painting in oils as a child and I love color, I believe you can evoke the essence of things with just black ink. Training in typography has influenced my style by heightening my awareness of how edges and the spaces between things visually define our physical world. I see patterns in everything around me. I have been painting with brush and ink on Japanese paper made from gampi—a natural plant fiber. The paper is very strong, but also thin and absorbent, so every stroke leaves a mark that can't be undone—much like the effect of our actions on the environment. "
- Juliet Shen
Bio
Juliet Shen grew up in New York, where her father was a translator at the United Nations. She started painting with oils in childhood, continuing through college. She earned a B.A. at Sarah Lawrence College, a Certificate of Fine Arts from The Cooper Union, and a M.A. from the University of Reading, UK, in Typeface Design. Juliet owned a graphic design firm in Seattle from 1989–2012, earning distinction for her design of a unique digital font for the Lushootseed language. She taught Typography at the School of Visual Concepts for 17 years. Since 2012, her design and teaching careers have taken a back seat to painting.

Since 2013 Juliet has exhibited in over twenty solo or group shows. She was previously the subject of a solo exhibition curated by June Sekiguchi for the Asia Pacific Cultural Center, Tacoma. Her art has been collected by Tacoma Art Museum, Seattle Public Utilities, King County Portable Works, and the Regional Arts & Culture Council (Portland OR). She is a member with other local artists of the Duwamish River Artists Residency and CoDraw Seattle.
More information about Juliet Shen
More information about Vashon Artist Residency
VIRTUAL TOUR OF GALLERY & ATRIUM NOVEMBER EXHIBITIONS