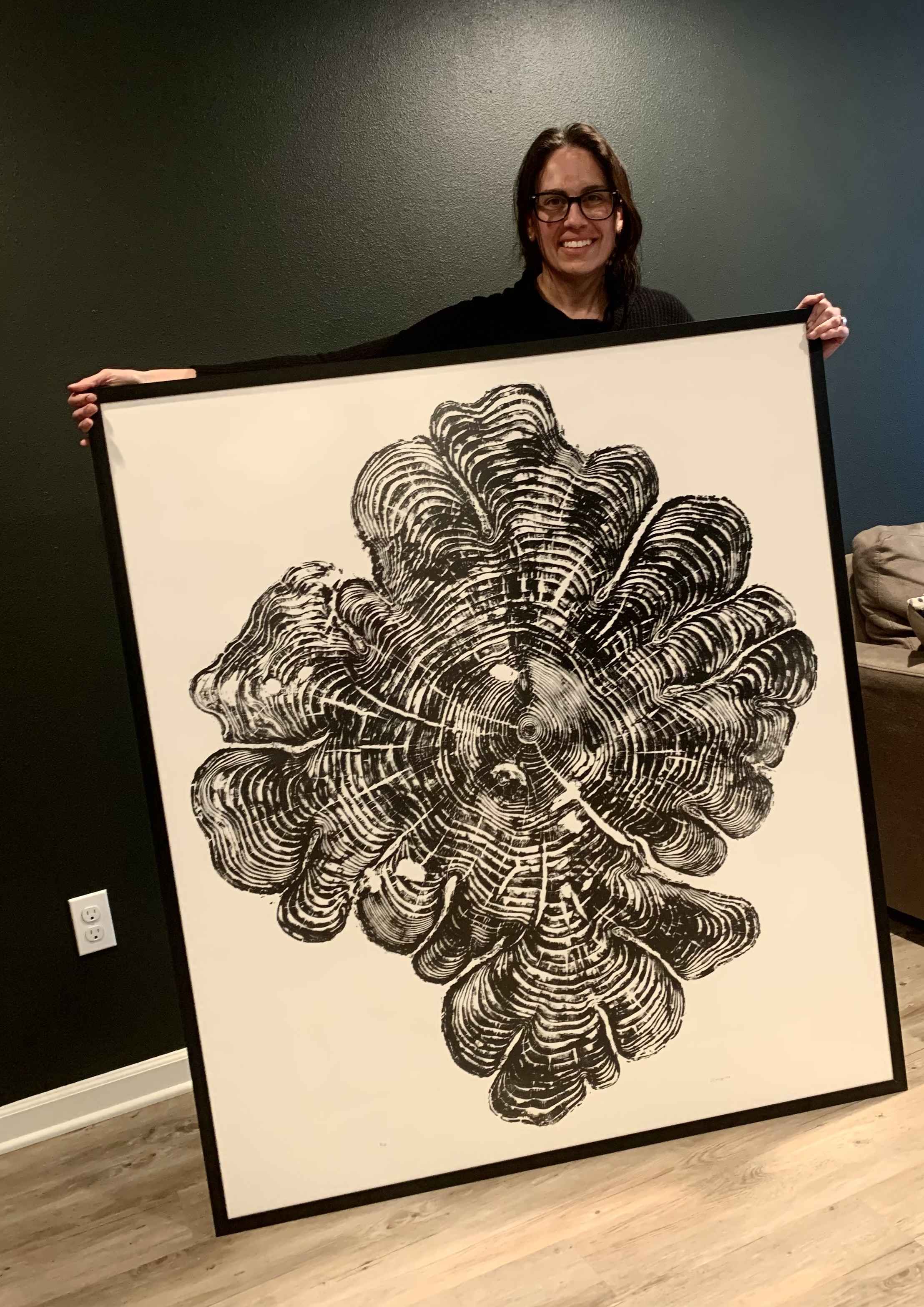 "Arboreal" is a collection of Gig Harbor artist, Vanessa Lanza's large format hand-burnished relief prints taken from salvaged tree sections that explore the growth rings and life cycle of our native trees. Her butterfly series is a group of red alder relief prints with chine-collé that represents interdependence in nature.
ARTIST STATEMENT
As a Pacific Northwest native, I have a deep, spiritual connection to trees. They are a ubiquitous life-giving presence that help center and ground me. They carry stories, memories and wisdom beyond human comprehension. My artwork is an expression of my love-of-home and my absolute admiration of the trees and landscapes that surround us.
All wood that I use in my art pieces are salvaged and sourced locally in the Pacific Northwest. They are trees that have already been felled and discarded. I never cut down a tree; in fact, I like to think that I am preserving the tree's legacy by documenting its life story. Each woodcut reveals what that tree has lived through. Much like people, trees are survivors. They have good years and bad. They persevere through traumatic events, and their scars are internalized, healed, and grown over. They are unique, resilient, and beautiful. They grow deep roots that keep them grounded, stable, and connected to other trees in their community.
BIO
Vanessa Lanza is a Pacific Northwest native and Gig Harbor-based artist whose work centers thematically around exploring and honoring our native trees. She works across several mediums, including relief and monotype printmaking utilizing fallen tree sections, as well as end-grain wood mosaics using locally salvaged sticks and branches.
She has a Bachelor's degree in History and a Master's Degree in International Relations, and has worked in the global and local non-profit sectors before returning to her first passion- making art. Vanessa has been creating art in various forms her entire life. It wasn't until 2019 that she began her thematic focus and decided to hone her craft. She is constantly experimenting with new techniques and exploring new ways to communicate her love of nature through art.