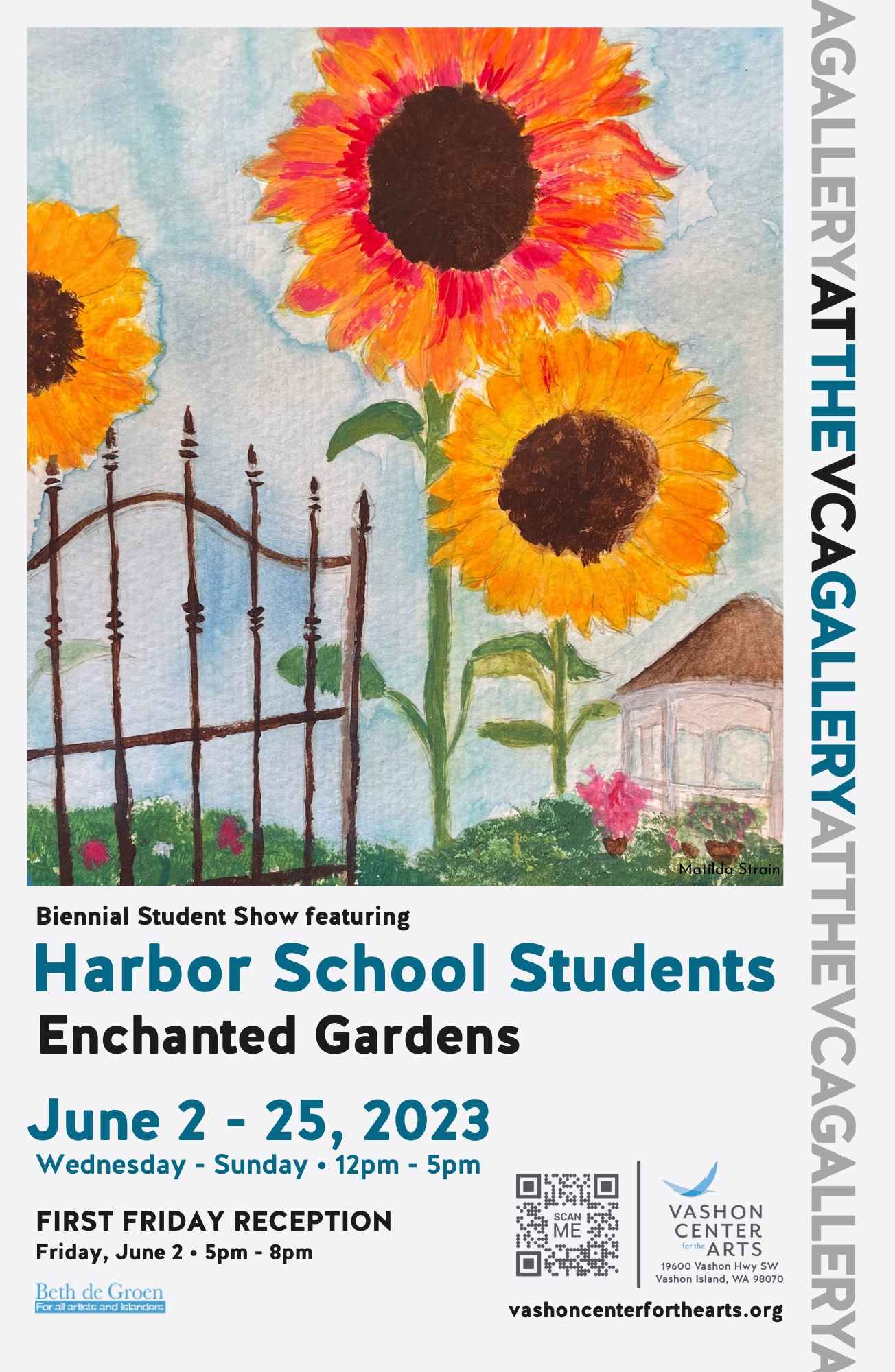 VCA's 2023 Biennial Student Show features K-8 Harbor School students. "Enchanted Gardens" is an art show featuring a collection of paintings on paper that bring fantasy gardens to life. Fourth through eighth graders are exhibiting works on paper made in Alisara Martin's class and Kindergarten through third graders' works, done with Andrea Braganza, are printed art cards. The exhibition showcases the creativity and dedication of Harbor School students who have created a series of captivating paintings inspired by imaginary and mystical gardens and creatures.
The show includes a diverse range of styles and techniques, from vibrant watercolors to mixed-media and acrylic paintings. Students spent time in Vashon's luscious green spaces to create unique interpretations that transport viewers to worlds filled with enchanted flora and fauna, hidden pathways, and surreal landscapes.
Visitors are invited to immerse themselves in the enchanted gardens created by our talented students and to celebrate the power of art to inspire and transform our world. All art will be for sale. Proceeds will benefit Harbor School art program and VCA's visual art exhibitions.
Featuring:
4th & 5th grade: Dockton Anderson-Heil, Lucia Cugudda, Helena Folkestad, Mairin Itterly Baker, Aurora Johns, Aesa Jonasson, Eloise Larson, Gustav Mobrand, Charlotte Mollison, Juni Alanis, Cate Carr, Leila Coghlan, Garrett Dorr, Kaden Grace, Caspian Magal, Ivy Quinn, Eleanor Reynolds-Pugh, Max Talisman, Mateo Volk, Elena Webb.
6th, 7th & 8th grade: Amelia Archaro, Emile Cudaback, Jane Ely, Svea HansPetersen, Vaughn Harmon, Amelie Klein, Sabine Klein, Lukas Lanske, Millie Stearns, Maggie Uhlir, Poppy Beck, Eli Berman, Alexis Delgado, Emily-Skye Haskins, Henry Jonasson, Josie Reiling, Maren Stern, Alekos Dalinis, Alia Davis, Weston Dorr, Mira Ellis, Rose Ely, Grant Fitterer, Sevie Giller, Sophia Lanphear, Sebastian Magal, Atticus Nauman-Montana, Isabella Peani, Emily Rock, Matilda Strain, Ash Sullivan, Natasha Webb.
First Friday gallery walk : June 2nd, 5pm - 8pm
Show runs through June 25.
Gallery hours: Wed - Sunday, 12-5pm