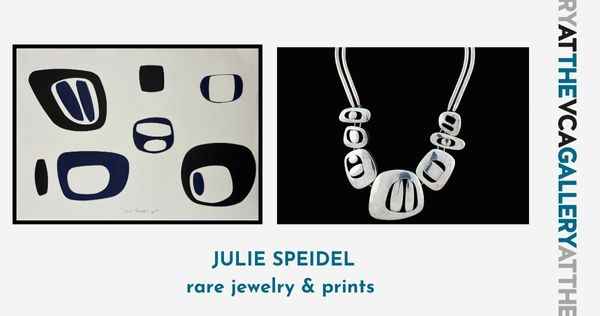 Vashon Center for the Arts gallery is proud to present a collection of Julie Speidel's works on paper and hand crafted jewelry.
A special solo show of artwork by longtime island resident and internationally renowned artist Julie Speidel will fill the gallery at Vashon Center for the Arts during the month of November, with the show opening at 5:00 p.m. Friday, November 3.
Coming full circle to the beginning of her career, and for the first and most likely last time in the Pacific Northwest, Speidel will exhibit a curated collection of her hand-crafted jewelry, which launched her luminous career fifty years ago. As unique works of wearable art, each of the necklaces, bracelets, and other jewelry embodies her signature and celebrated, iconic shapes.
From cascading circles and stones to abstract human shapes, Speidel's work often blends figuration and abstraction. Influenced by an array of cultures, from antiquity to the stone- and bronze-age peoples of Europe, the early Buddhists of China, the indigenous tribes of the Pacific Northwest, and twentieth-century modernists like Picasso and Henry Moore, Speidel also finds inspiration in the environment around her.
"Every time I cross the water from Vashon, I look around me and find inspiration," she said. "I believe people everywhere and throughout time have shared the basic instinct to represent the world around them using symbols and images."
Speidel has expressed her chosen symbols and images using a variety of forms and a wide range of materials — from welded metal sculptures to intricate jewelry designs to her most recent oil prints on paper. Her CV runs over 13 pages, listing works held in prestigious private and public collections abroad and in the U.S., including the Tacoma Art Museum, three United States Embassies, the Oracle Collection, the Boeing Collection, and the Nordstrom Collection. Her solo and group shows date back to the 1970s. On Vashon, her sculptures can be seen at Ober Park, on Vashon Highway where a commission called "The Gathering" sits outside Courthouse Square, and in front of Vashon Center for the Arts in the shape of a glacial erratic.
In addition to the rare jewelry collection on display, Speidel will exhibit a selection of works on paper, including two prints honoring the late Supreme Court Justice, Ruth Bader Ginsberg. The prints were created using hand-rubbed ink on Japanese paper. This collection of Speidel's works on paper will include some of the last pieces available for public sale as the artist continues to produce fewer and fewer during her retirement.
First Friday Gallery Cruise reception: November 3rd, 5:00 – 8:00pm
Gallery hours: Wednesday – Sunday, 12-5:00pm (closed Monday & Tuesday)
Julie Speidel November exhibit is made possible with the support of Cheryl Lubbert & Jim Gerlach of Nashi Orchards. The VCA Gallery is generously supported by Beth de Groen.​