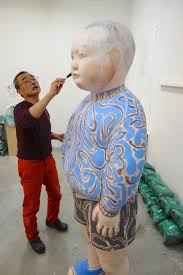 Akio Takamori: Time is a retrospective of Takamori's illustrious work in Seattle with special focus on his time and work on Vashon Island from 1988 to 1994.
CURATOR STATEMENT - Vicky Takamori
When choosing "Time" for the exhibition title, I wanted a word that would pin point Takamori's time on Vashon and more broadly his time as a ceramic artist. Moving to Vashon in 1988 and setting up his studio and building his salt kiln marked the beginning of a very prolific period for him. He is best known for his "envelope vessels" made from three slabs of clay forming the front, back and bottom of the piece. Boy Holding Dog from 1983 and Conversation from 1988 are both envelope vessels. Takamori wrote, "I am mostly interested in the fact that vessels create a space that mentally affects me as containers. Containers gives us the strong notion of holding, hiding and protection." When looking at these two pieces, the space in between the front and back suddenly becomes very important. Just as important is the reverse sides of the pieces where the brush work becomes spontaneous. Takamori moved easily between the three- dimensional clay surface and his works on paper. It was his touch of the brush loaded with ink or glaze, on clay or paper, that made visible his remarkable brushwork and drawing.
Dr. Takamori and Woman with Handbag both from 1997 mark the beginning of Takamori's standing figures that he would continue to explore up until his death. Working from his memories of growing up in Postwar Japan his figures represent the ordinary person. They are meant to be walked around and seen from all sides, not unlike we might pass someone on the street. Sleeping Woman with Pink Hair from 2014 is an invitation to look upon the vulnerable state of sleep.
Takamori's last exhibition, Apology/Remorse from 2017 poses many questions. It was the start of a new body of work for him. The brush work and unglazed clay that had been his palette for years gives way to fully glazed figures in black and vibrant yellow. The torsos are female and the heads are male in both pieces. How are we to see this unfamiliar rearrangement of the body? Takamori leaves us thinking, how can we be moved to express a true apology and feel true remorse in 2022?
-Vicky Takamori
Takamori was a seminal figure in ceramic art, whose work over thirty years left an enduring impact on the Pacific Northwest arts and the medium itself. His work is often autobiographical, drawing on his life in Japan, his family, and mythological themes. He is known for his coil-built figurative sculptures in which the narrative painting defines the form. Takamori explored themes of cultural identity by engaging the history of Eastern and Western aesthetics. Bold form and color defines his body of work, which is highly expressive of human emotion and sensuality.
Akio Takamori was born and raised in Japan. He has been exhibiting in the United States, Europe and Asia since the mid 1980s. He received his BFA from the Kansas City Art Institute in 1976 and his MFA from the New York State College of Ceramics, Alfred University in 1978.
Takamori's work is included in numerous collections including the Nelson-Atkins Museum of Art in Kansas City, Los Angels County Museum of Art, Victoria & Albert Museum in London, Ariana Museum in Geneva, the Seattle Art Museum, and the Museum of Arts and Design in New York City. He is the recipient of numerous awards, including three National Endowment for the Arts Visual Artists Fellowship Grants (1986, 1988, 1992), the Joan Mitchell Foundation Painters and Sculptors Grant (2006), and the USA Ford Fellowship (2011). Takamori was a professor of art at the University of Washington. He lives on Vashon Island from 1988 – 1994, and Seattle until his passing January 2017 of pancreatic cancer.
VCA & Mukai Farm and Garden are proud to present in the Kay Hall, "Bringing Life to Clay" with Barbara Johns, Patti Warashina and Vicky Takamori, Saturday, May 7: 2pm. Barbara will talk about her conversations with Akio, his stories of his life, and his art work. She will be joined by Patti Warashina who knew Akio as a colleague and friend, and Vicky Takamori, who will share stories of Akio as a husband and father, and his studio on Vashon.
Information & Tickets for Talk
There are other events happening on Vashon for this 3-organization collaboration celebration Akio and the long history of potters on Vashon. See other events planned in May : Mukai Farm & Garden and the Vashon Heritage Museum.